Easy email testing for developers and users
No more accidentally spamming real people. Ensure emails are sent at the right time, look great and do this inside the software you're building.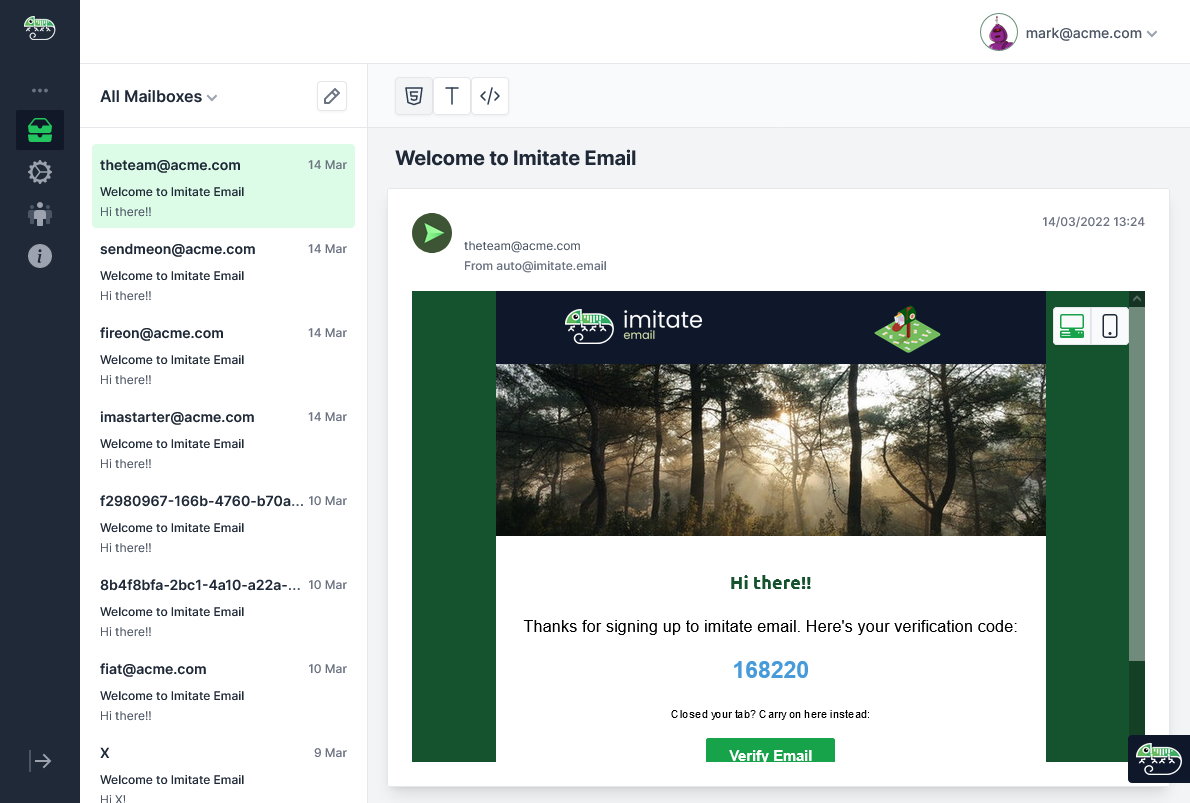 Email is a big part of software.
Testing it shouldn't be.
We designed Imitate Email to enable software teams of all sizes to easily test email flows, whether writing your own software or using a third party, and across in-house and external users.
Getting started is easy
1

Sign up for your free account

2

Change your SMTP settings to match our sandbox SMTP server

3

(Optionally) add a single line of JavaScript to your web app

That's it! Start sending emails as normal
Sandbox Smtp Server
Our sandbox SMTP server enables developers to quickly set up test email delivery for themselves, against their code or others, as well as for users involved in testing.
Embedded Widget
See test emails alongside the web app that's sending them using our web widget. Developers and users can quickly test email based workflows.
Mailbox App
Inside both the widget and the web app, developers/testers can view their emails in html, text or raw formats with the ability to preview across desktop and mobile.
Built for teams
Included with our plans are multiple projects, mailboxes and support for different permissions across your organisation. The Web Widget supports SSO so that your 3rd party testers are unaware of Imitate Email.
What our
users

say

Below are a few examples of reviews we've received for Imitate Email. Don't just take their word for it though, Sign up for free now and find out for yourself

"Great Email Sandbox Developer Tool. I can see the time savings by having the script embedded on the website you are working on so you can quickly open, view, and move on. I did like I can view the email in it's original form, toggling off/on the images, look at the straight text, and then look at the properties of the email. All's to say, it has sparked my curiosity to be able to program emails like this in the future now that I have this tool. "
Fred Rubio
Independent Developer
"An adorable tool! Saves me a lot of time. My current software project sends a lot of emails so it's great to see them pop up alongside the software as I'm working. Makes testing much easier - working without it is now a pain. I get it installed as quick as I can on each project".
George Seeger
Senior Developer at Abstract Leap